Our Community A Nurturing Environment for Ag Startups and Employees
BRDG Park is a community of innovators tackling some of the most fundamental challenges facing our world – how to feed people and keep them healthy while protecting our environment. And, the concentration of leading agriculture companies, ag startups, investment funds, innovation hubs, trade organizations, and proximity to America's Heartland, make St. Louis the place to be for bioscience innovators.
At BRDG Park, you have a support system. We nurture community and innovation with shared access to professional development and opportunities to engage with other scientists, entrepreneurs and peers. Venture Café gatherings on the 3rd Tuesday of the month facilitate serendipitous collisions that drive creativity, foster collaboration and stimulate investment in innovation. The Fall Scientific Symposium features keynote speeches from globally recognized scientists and thought leaders, poster sessions, panel discussions, and networking.
But BRDG Park isn't just a community of scientists. We're a business community bringing together both ag industry leaders and ag startups – and we work to foster networking across companies.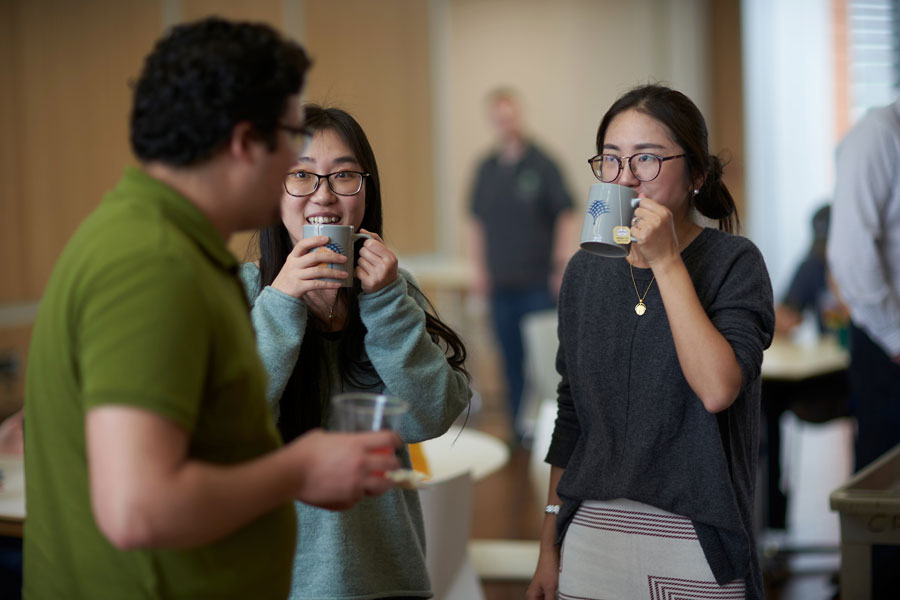 We have some fun around here too. Our campus community plans a variety of activities to engage with each other, formally and informally, in a vibrant and inspiring setting.
Regularly scheduled happy hours and other social connections
BRDG Park Coffee with Colleagues series every other Friday for casual networking
Company meet & greets
Scientific networking and professional development
Yoga and other wellness programs
Cycling club
Soccer team
Coming soon – Food trucks and a campus barista!
Learn more about St. Louis' thriving innovation community.
St. Louis Community College
Keep Your Talent Bench Full with STLCC's Top Student Training Program
An important part of our BRDG Park community is our partnership with the St. Louis Community College (STLCC) Center for Plant and Life Sciences. Its contract research organization is a national model for addressing skilled workforce needs by embedding education and training within a research park. It currently boasts a 95% placement rate!
Students in the STLCC program at BRDG Park train in a Biotechnology and Life Science Lab assistant program on cutting-edge equipment, preparing graduates who will be highly sought after by regional bioscience companies and go to work immediately in high paying jobs.
Companies work directly with the biotechnician training program to recruit interns and employees.
I think one of the main drivers for CTC Genomics coming to St. Louis, is the talent that you can get here. The number of these folks who've already been through the Danforth Center or who've come from the St. Louis Community College downstairs, it's very impressive. I'm super excited to be working with them all."
Dr. David O'Reilly,
Head of Discovery and New Platforms, CTC Genomics
Find a Career at BRDG Park